Support roles
Our support staff play an essential part in achieving our objectives.
Support Roles
It's not just firefighters who make Scotland a safer country. Our Support Staff work across a range of careers and all contribute to our daily objectives.
We have a wide-ranging variety of roles within our Support Staff functions. These include People Advisors, Health and Wellbeing professionals, Mechanics, and Admin Support roles.
A full range of current opportunities is available at MyJobScotland.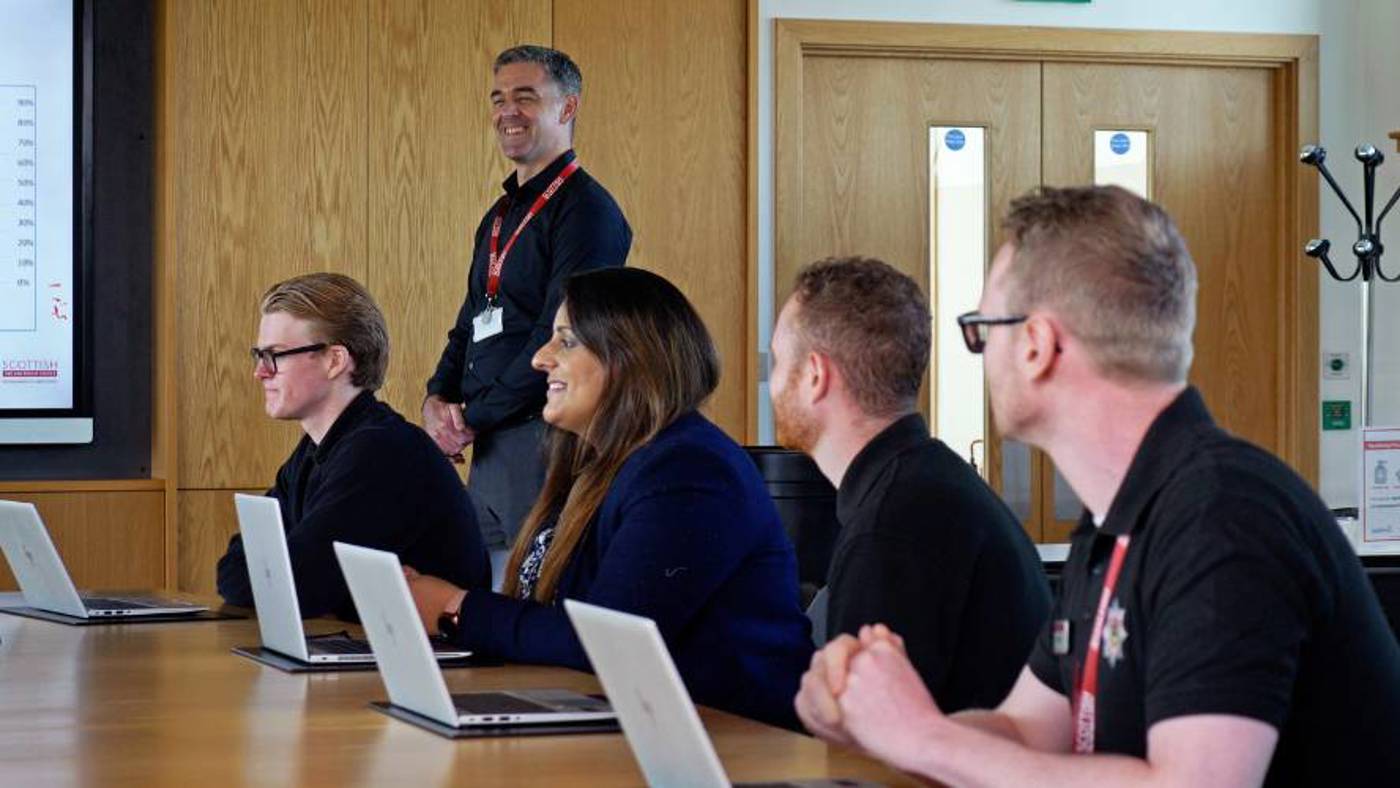 Modern Apprenticeships
We also have a range of Modern Apprenticeship positions within our Support Services. These are available for 16 to 24 year olds and last a minimum of 12 months. Vacancies for these roles will be advertised on our recruitment pages.
Modern Apprenticeships allow you to gain in work training and a recognised SVQ qualification.
Our Directorates
SFRS is made up of a number of directorates. Each of these are responsible for a vital function that help us to achieve our daily objectives.
All of our support functions consist of administration support and specialist roles. Our Directorates are listed below, which provide an example of some of the support roles available.
People
We know that all staff who make up the Scottish Fire and Rescue Service are our greatest asset. We firmly believe that by investing in their future and making sure that we have the right people trained to the highest possible standard will not only make our organisation stronger but can make Scotland safer.
Examples of roles available include:
people advisors

health and wellbeing professionals

people administrators

workforce planning analysts
Finance and Contractual Services
We view how we spend our budget and how we manage contracts as crucial functions, and making sure that we make the best use of all our resources is a key part of the Scottish Fire and Rescue Service's mission.
Examples of roles available include:
accountants

procurement specialists

property officers

mechanics
Strategic Planning Performance and Communications
Planning and performance is key in supporting the Organisation to meet its strategic objectives, as is effective Communication and Engagement with key stakeholders
.
Examples of roles available include:
personal assistants to our senior managers and directors
Service Delivery Prevention and Protection
The more informed people are about the dangers of fire and other emergencies, the more chance they have of ensuring their own and other people's safety
.
Examples of roles available include:
community safety advocates

youth engagement officers

data analysis and performance management officer
Service Delivery Operations
Our Operations teams make sure we have the right resources available at the right time and in the right locations to serve the people of Scotland.
Examples of roles available include:
civil contingencies officers
CAD operators
hydrant operatives
central staffing
Training, Safety and Assurance
The Training, Safety and Assurance Directorate ensures an integrated approach to three crucial elements that uphold and safeguard the SFRS value of safety.
Examples of roles available include:
health and safety advisers
training assistants
driving instructors
learning and e-development
Service Development
The Service Development function includes multiple teams working collaboratively to drive change, enhance information and technology management, analyse community risks, and ensure effective project and program management within the organisation.
Examples of roles available include:
ICT architect
performance improvement officer
programme officer
service desk analysts