SFRS Charity Partnership presents Inaugural Award in memory of teenager
The Scottish Fire and Rescue Service has presented its first Campbell Hunter Award – named after a caring teenager who passed away.
Campbell was a student at Glasgow's Strathclyde University when he sadly passed away in an accident, nearly three years ago, aged just 18.
A former pupil of Peebles High School, he helped to promote the Scottish Fire and Rescue Service (SFRS) partnership with stem cell charity Anthony Nolan.
At high school, Campbell from Peebles was part of a team of 'School Champions' – young people who are chosen for their commitment and drive to help recruit potential stem cell donors to the Anthony Nolan register.
Campbell is fondly remembered for his caring nature and enthusiasm for helping others. This national SFRS and Anthony Nolan partnership award has been created in Campbell's memory – to recognise others who support the partnership and display the same exemplary qualities.
At an award ceremony at SFRS national headquarters in Cambuslang, Campbell's mum, Gayle Gallagher presented the inaugural award to St Mungo's High School in Falkirk.
"Campbell would be beyond delighted with this idea! It is my privilege to present this award. Campbell made an impact on a lot of people. Thank you for helping me to keep his memory alive."
The SFRS and Anthony Nolan partnership's main focus is on recruitment drives throughout secondary schools as research shows younger donors lead to more successful transplants.
So far, St Mungo's High School has held three recruitment events and signed up over 260 young people to the Anthony Nolan register. The school has also recorded their first stem cell donor. A former pupil, on the register, was matched with a patient with blood cancer and donated their stem cells to give that patient a second chance at life. Next year the school is planning to climb Ben Nevis to fundraise for the charity.
Sadly, the school lost former pupil Declan Rennie to cancer in December 2017 when he was just 15. He received a stem cell transplant which was not successful. The school also remembers Declan in their endeavours to support the charity partnership.
On receiving the award on behalf of St Mungo's High School, teacher Heather Anderson said: "St. Mungo's are honoured to be receiving the first Campbell Hunter award. We always look forward to welcoming the SFRS into the school and we are so proud of all that has been accomplished. We also want to take this opportunity to remember Declan, we are sure he would have been proud of everything his peers have achieved.
To receive this award in memory of a fellow champion is very humbling and we will continue to try our best to honour Campbell's memory.
The SFRS partnership with Anthony Nolan was formed in 2009 after then Area Commander Ally Boyle was diagnosed with myelodysplasia. Ally quickly realised that both SFRS and Anthony Nolan have a shared focus - saving and improving lives. The partnership has seen more than 19,000 potential donors recruited to the stem cell register with 105 of those going on to donate.
Ally attends many school partnership events throughout Scotland and at Peebles High School – Campbell left a lasting impression.
Ally said: "The events are designed to promote active and positive citizenship and we work with pupils to design and deliver each event. Campbell really stood out for the way he interacted with his fellow pupils, teachers and our volunteers. Over 100 pupils signed up as potential lifesavers and Campbell was instrumental in this process."
School Teacher Gill Geddes who helps to support the SFRS and Anthony Nolan partnership at Peebles High School said: "Campbell will always be fondly remembered for his role as a School Champion. His enthusiasm, energy, drive and commitment for this cause was clear from the outset and he willingly threw himself into everything - from blowing up balloons to recruiting potential donors! He was a fantastic ambassador, leader and role-model for Peebles High School."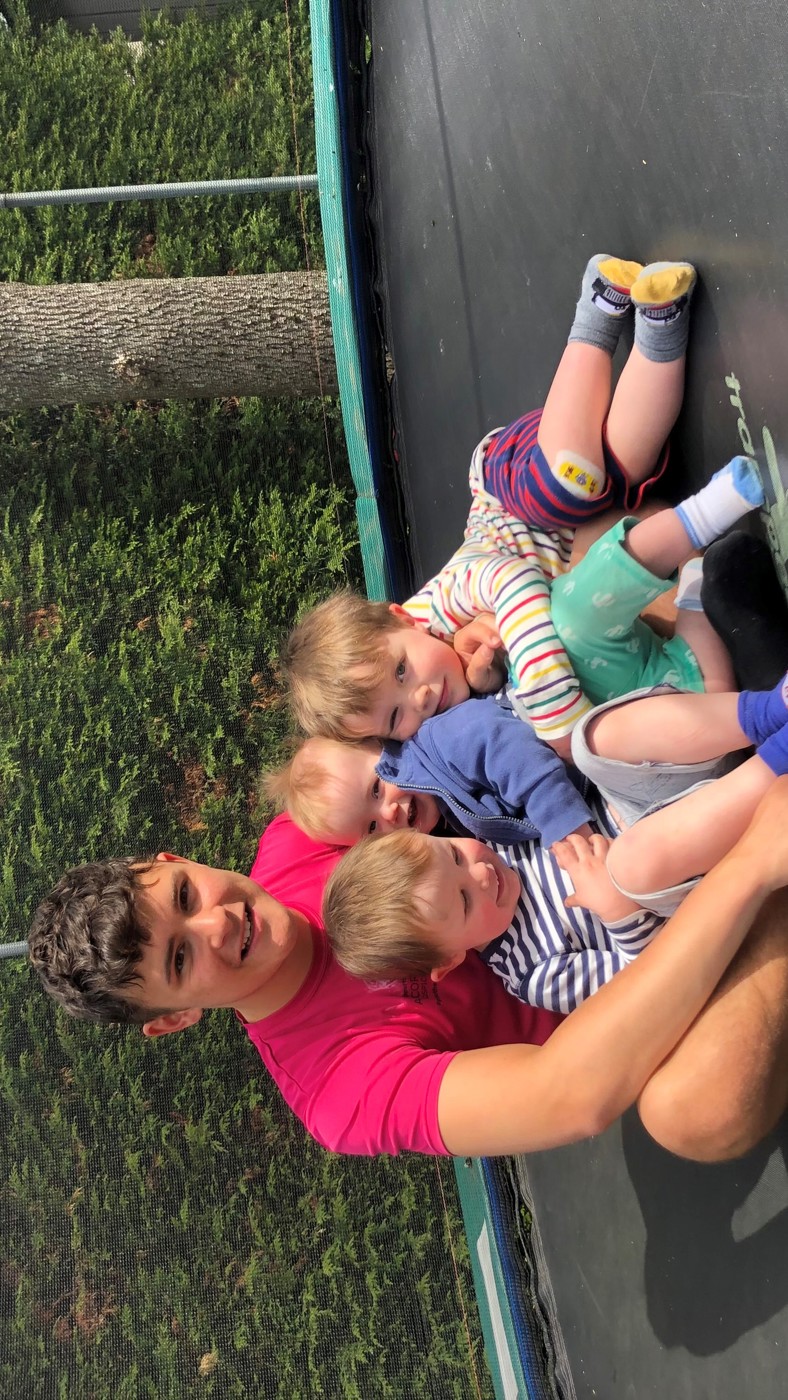 Campbell was also a much-loved big brother to Ker, age four, Jamie, age six, and eight-year-old Fearghas.
Campbell's mum Gayle said: "My youngest was only a year and a half when it happened, and he won't really have any memories of Campbell, but we talk about him every day and there's lots of photos and videos. Fearghas and Jamie remember him and miss him, and the hardest thing is when they ask – where is Campbell?
"If it hadn't been for the wee boys, I don't know what I would have done. They are so full of energy, and they remind me so much of Campbell at those ages and stages. Campbell was such a good big brother to these three wee whirlwind boys who completely ruined his peace and quiet. He used to wind them up and he'd have them running about the garden giggling.
"Presenting this award in Campbell's name, means a lot to me. I'm also delighted to see how the SFRS and Anthony Nolan partnership has grown. Being involved meant a lot to Campbell and it's inspiring to see the young people who have donated their stem cells being recognised for playing their part in helping to save the life of another."
Holly Gooch, Partnerships Manager at Anthony Nolan said: "The partnership between Anthony Nolan and the Scottish Fire Rescue Service is crucial in getting more young people signed up to the stem cell register. Anthony Nolan's research shows that younger donors offer better survival rates for patients, making the recruitment of young people vital in helping save the lives of patients with blood cancers and disorders. Thanks to the SFRS over 19,000 people have signed up, with many of those potential donors doing so from secondary schools. St Mungo's High School has helped sign up over 260 young people to the register and their contribution to helping Anthony Nolan is hugely appreciated by the charity – we hope to see many more potential donors signing up through their recruitment drives!"
The SFRS and Anthony Nolan Partnership Award Ceremony was also attended by 14 people who received Certificates of Commendation from SFRS Chief Officer Ross Haggart. They were recognised for donating their stem cells after they were recruited through the partnership and being matched through the register.