State-of-the-art work space for maintenance of Scotland's fire appliances opens in Cambuslang
The Scottish Fire and Rescue Service has opened its new Cambuslang Asset Resource Centre.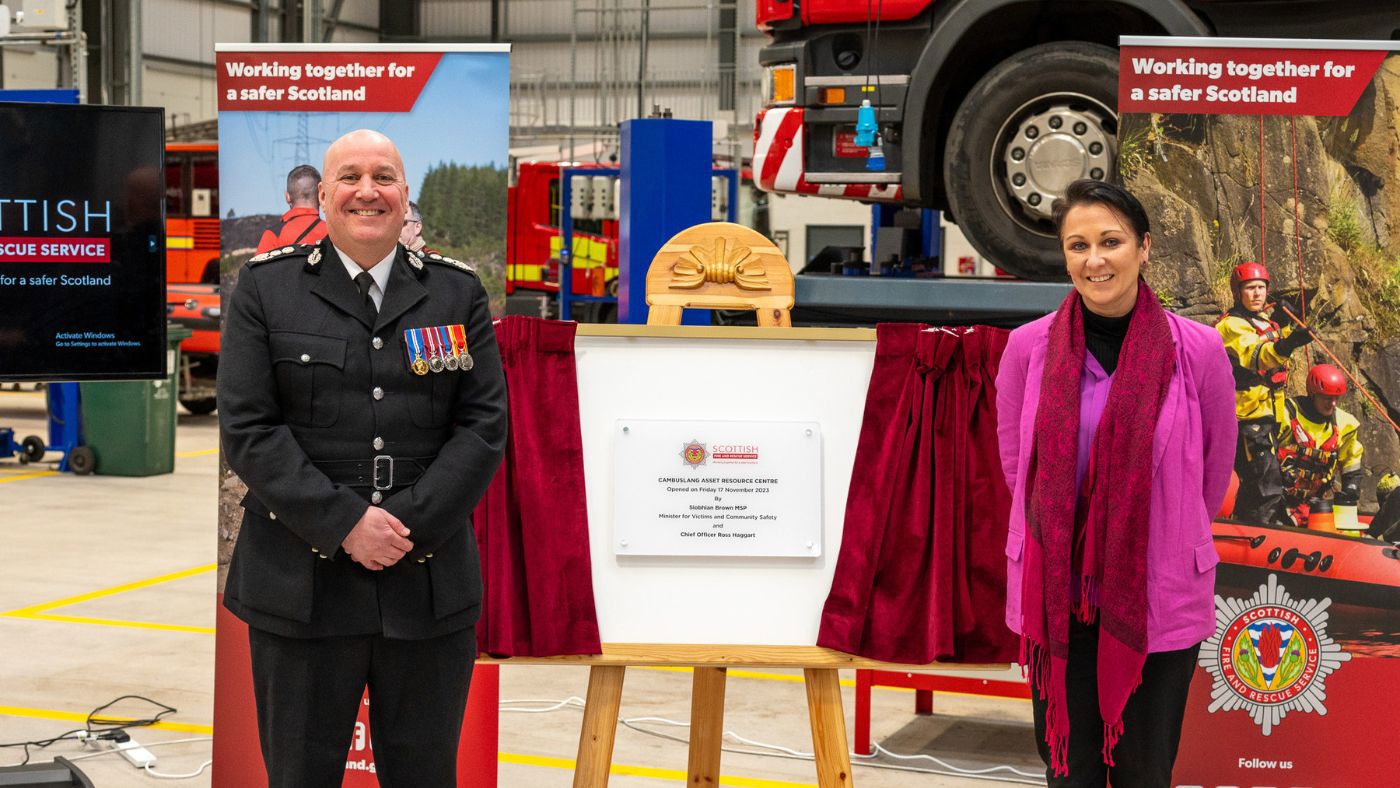 The Scottish Fire and Rescue Service (SFRS) is proud to unveil a new £12 million state-of-the-art hub to support the work of Scotland's firefighters.
The Cambuslang Asset Resource Centre (ARC) was officially opened on Friday, 17 November by Scotland's Minister for Victims and Community Safety, Siobhian Brown MSP.
The multi-purpose building will not only provide mechanics with a modern workspace to maintain fire appliances but will also house SFRS staff from various support staff departments.
The new facility is located within the SFRS national headquarters and training centre complex, which sits adjacent to Clydesmill Community Fire Station.
Iain Morris, SFRS Head of Asset Management, said: "This is a major new development to enhance the working conditions for our staff working across different areas of the Service.
"The building includes a state of art workshop for our mechanics who work tirelessly to keep fire appliances maintained to protect communities across Scotland.
"The design and materials used in this project has created one of our most energy efficient buildings, representing a tangible commitment to delivering value for money."
Scotland's Minister for Victims and Community Safety, Siobhian Brown MSP, said: "I welcome the opening of this state-of-the-art asset resource centre. It will provide SFRS mechanics and support staff with the facilities they need to continue to provide high-quality support to our fire service.
"This new facility will help keep the all-important fleet of appliances and other specialist equipment in optimum working condition, supporting the work of firefighters in keeping our communities safe."
SFRS staff have moved to the new site from locations including Hamilton in South Lanarkshire and Cowcaddens in Glasgow.
The ARC was designed and constructed by building firm, McLaughlin & Harvey.
Robbie Clark, the firm's Operations Director, said: "We set out not only to provide the Service with a quality finished facility, but also to bring real benefits to the local community and economy during the build through our social value commitments.
"After just over a year of good work by our site staff and the wider project team, we have achieved those objectives, and it's great to see Service staff now moving in and using the facility. We are sure they will find it a modern and comfortable place to work."